Okay, every year I start out pretty good with my resolutions. Some I have managed to keep (still) and others fell by the wayside in a week or two. I always love the idea of starting a new year out fresh and especially because it is my birthday I feel like I am really getting a fresh start on a new year!
So, here are a few things I hope to accomplish this year:
1.) Get more organized! I am a fairly organized person, or I should say I used to be, until kids got added into the mix. I need to start going through room by room and taking it slow and coming up with a system that really works for our family.
2.) Budget,budget, budget! I know, you are probably thinking "why is she not doing this already?!" We have a budget but we have a hard time sticking to it. There are going to be some real changes with that this year. We really need to cut out unneccesary spending and start saving more.
3.) Speaking of saving more.... hubby and I want to go away for the weekend for our 5 year anniversary and we are going to need money to do that. He wants to renew our vows, so hopefully we get to.
4.) Not only lose some weight, but just treat my body healthier in general. I need to cut way down on processed food and try to eat more fruits and veggies. Also, drink more water! I have a closet full of clothes that fit me six months ago .
5.)Going along with number four, I need to rejoin a gym. I have come to the realization that although, it will not help our budget, it will help my sanity. I feel much better about myself if I make time to exercise.
6.) Last year I set a resolution to try new recipes more often and I actually feel like I accomplished this one quite well. This year, I would like to try even more and find some healthier alternatives to some of our favorite dishes.
7.) Open up my ETSY Shop! I keep saying I am going to do this and then I find a reason to put if off or life just gets in the way.
8.) Step out of my comfort zone more. Some of the best experiences I have ever had was when I did something that I was initially afraid to do.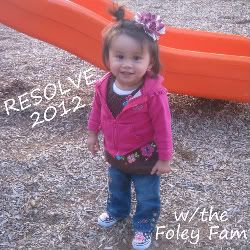 So, there you have it. What are some of your resolutions for 2012?