We went all the way across the border to Whistler to play in the snow and this is what we were greeted with when we made it home! We have had more snow falling here the last day and a half then we did the whole time we were up in Whistler!
The kids are loving it!
Good thing we had just bought a sled.
I love the beauty of the snow, but after a few days being trapped inside, the novelty starts to wear off. I am extremely uncomfortable driving in it because I have so little experience. So, until the weather warms up this is where we will be. Staying in, sipping hot cocoa and hopefully I will get some cleaning and crafting projects done!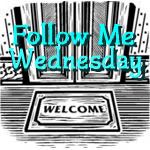 Joining in the hop today!