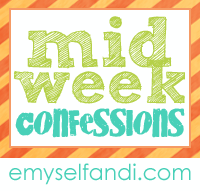 So, today I am linking up for the first time to do my midweek "confessions".
- My kids have had mini pancakes or french toast sticks way too many days in a row now for breakfast!
- I had a few too many drinks on NewYear's Eve ( and I said I wouldn't but a few too many for me is about three!) and spent my birthday with a headache
-My house appears to be free of all the Christmas present clutter.... just don't look in any of my closets.
- We are watching Shrek for the second time today.... and it is only 9:15 in the morning
- My hubby has only worked 2 1/2 days in the last three weeks and I am
soo
ready for him to go back tomorrow.
- I made a menu plan and rocked it and then never stuck to it!
What are some of your confessions?!