There is something about a big pot of chili simmering ALL day that makes it feel like Winter.I love Sundays when I am curled up inside watching football while it is stormy outside and the aroma of dinner is wafting through the house all day. Here is my favorite chili recipe and it is pretty simple ( I love simple).
Here's what you will need:
1 lb ground turkey ( or ground beef, if you prefer)
1 can black beans
1 can kidney beans
1 pkg chili seasoning
1 15 oz. can mexican style stewed tomatoes
1 15 oz. can whole kernel corn
1 5.5 oz. can V8 or tomato juice
* I prefer a really thick chili,so I usually add an extra can of beans, either kidney or black, whatever I have on hand. :)
Go ahead and brown your meat and then it is as simple as throwing everything into the crockpot and stirring it together. You can cook on high for 2-3 hours or low for 4-6. I like to add Tabasco sauce to mine for extra flavor but because we have little ones I don't mix it in beforehand.


That's it! Enjoy!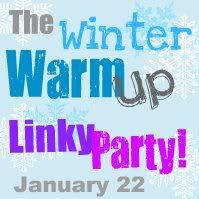 Linking up today!