We had so much fun making these rice krispie pumpkins!
I saw this recipe in a magazine (I can't remember which one, though) and cut it out and filed it away. When I came across it again I knew we had to try it!
I have never made rice krispie treats before ( Crazy, I know!) and my father in law wanted me to make them for his work party. I was a little hesitant not knowing how they would turn out, but I think they turned out alright. :)
Here are the ingredients you will need:
- 3 tbsp. butter or margarine
- 4 cups mini marshmellows ( I used 5 however because I felt they weren't gooey enough)
- Green frosting for the leaves
- Orange food coloring
- 6 cups rice krsipie cereal
- 12 bite size chocolate candies to stuff inside! * I used rolos.... yummy
- 12 green small gumdrops for the stems
- black gel if u want to make faces
This will yield roughly 12 pumpkins.... we tripled the batch.
Directions:
In a large pan, melt butter over low heat. Add marshmallows and stir until completely melted. Remove from heat. Tint with orange food coloring and then add your rice krispies. Stir until well coated.
The recipe says to use a greased 1/2 cup measuring cup to scoop your portions but I just lathered my hands with butter and grabbed scoops and made my own sized pumpkins. :)
Form a pumpkin shape around your chocolate candy( the candy is optional but I think it adds a nice surprise when you bite into it) and lay it down on wax paper.
Then I got a little creative and used black baking gel to add fun faces on them.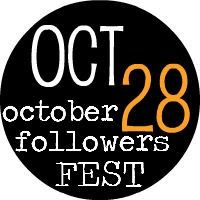 Come join the party!